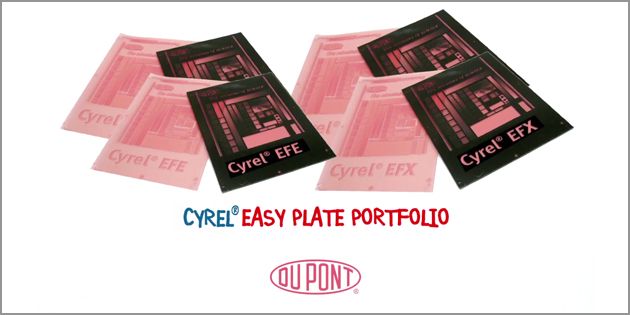 DuPont Advanced Printing will showcase DuPont Cyrel Easy flexographic printing plates - T
he latest addition is advancing flexography by delivering color complexity and workflow simplicity
at Labelexpo India 2016.
Cyrel Easy plates simplify the prepress process with flat top digital dots that are built directly into the plates. Developed for flexible packaging, tags and labels, these plates are based on a new polymer technology that produces higher ink transfer, color saturation and resolution.
It is claimed that significantly higher solid ink density has been demonstrated in customer testing, without compromising on highlights. The plates are available globally for Fast/thermal and solvent processing in engineered and smooth surfaces. Additional Cyrel Easy flexographic printing products are currently in development for the corrugated, beverage and folding carton markets.
Siming Luo, regional marketing manager for the Asia-Pacific region at DuPont Advanced Printing, said: 'Most printers are looking for a product that can bring high quality at high speed. Specifically in the tag and label market, printers require coming to color fast and running at high speed on press. Easy flexographic plate technology meets customers' requirements.'
DuPont has introduced Easy plates in India and commercialized them at several large trade shops and in-house convertors. 'Initial responses are very encouraging and trials are underway at other places,' said Luo.
The company launched DuPont Cyrel Fast 2000 TD system, its newest equipment offering, at drupa earlier this year. "The customer feedback in the EMEA region has been positive and we have to work very closely with our machinery partner to ramp up the production quicker to fulfill the order needs, not only from existing customers but also for the new customers who have tested Easy plates processed by Fast 2000 TD," added Luo. "The combination of our new plates and new machine has delivered highest performance expectation in the market, which will certainly be acknowledged likewise in India market once the machines come in."
DuPont will also show its new anti-counterfeiting film for packaging, DuPont Izon 3D security film. This anti-counterfeit technology enables fast, overt product authentication using unique 3D holograms, custom designed for simple and intuitive visual verification.